I don't have a Facebook account and I'm not a very social person, so I'm usually the last guy to find out about anything going on locally… like say, a comedy competition. So imagine my surprise when I strolled on in to one of my favorite open mics one night only to be told that I would have to sign a waiver and consent to being filmed if I wanted any stage time. Furthermore, it was explained -signing this waiver would constitute my entry into a comedy competition and my set would be judged by a group of people seated at the rear of the club.
Naturally, my first instinct was to run screaming. There is a special level of hell reserved specifically for comedy competitions and the only good that ever comes from them is when the comics are finally cast aside after having had all the life force completely sucked out of them until the only thing that remains is a bitter, shallow husk of the human being they used to be… then and only then are they prepared for the world of stand up comedy.
But I had just driven twenty minutes to get to this thing and I desperately needed some stage time.
"What's the worst that could happen?" I thought. "They will tape my five minutes of shame, cringe at how awful it is and then we can all move on with our lives."
So I signed the waiver.
Unfortunately for me, all of the other local comics actually DO have a Facebook account, are well informed and were scrambling to get their shot at comedy competition glory that night. By the time the dust had cleared, I was slotted to be number 23 on the list.
I'm not even kidding when I say the judges had already left the building by the time I went up. I know this because there were roughly 12 people in the room at that point and the only reason those people were still there is because they had all come with the comic who went up before me. Now they were desperately flagging down a waitress so they could pay their bill and leave while I was telling dick jokes.
This is a picture of me staring at them condescendingly while they make their escape.
Naturally, I cried in the shower that night after falling to my knees in the rain, thrusting my fists into the air and cursing god for this life as a shitty amateur comic. So imagine my surprise, when all the local comics began slapping me on the back and congratulating me at the next open mic I attended.
Apparently, I had somehow been accepted as a semi-finalist in this comedy competition. I don't know if the judges actually watched my video later or if my name was simply thrown into a hat. Again, not having a Facebook account somehow resulted in me being the last to know.
"Well… what's the worst that could happen?" I thought.
That's when I learned the video of my shame was proudly displayed on the website of the radio station sponsoring this competition along with the other semi-finalists. Now everyone could bask in the glory that is me telling dick jokes to twelve disinterested people who are in the back of the room and on their way out the door. Not only that, the general public was now invited to vote on each semi-finalist's video… not just "thumbs up", but also "thumbs down". After all, we don't want to know just how well liked you are -we also want to see just how despised you are. It's more fun that way. Perhaps not surprisingly, each comic had at least as many "thumbs down" votes as there were comics in the competition.
I guess the competition organizers thought opening the vote up to "the general public" might even out the odds somehow. Of course, what they didn't count on is just how much comics are social media whores. Within seconds, some semi-finalists had thousands of votes, while guys like me -with no Facebook account, languished in the double digits.
"Finally, this madness will be over." I thought. "There is no way I can compete with these Facebook whores and my five minutes of shame will quickly fade into obscurity."
So imagine my surprise when at the end of the month -after receiving maybe 60 votes compared to everyone elses thousands, I received an email informing me that I was now a finalist in this competition! Equally surprising was the admonishment in this email to "work clean" during the finalist round when it was basically a dick joke that got me there to begin with.
More bad news came when I read that I was expected to be at Snoqualmie Casino no later than 11am the day of the competition even though it didn't start until 8pm.
"What the hell am I going to do for 9 hours?"
This question was answered in the form of an itineray constructed by the radio station that thoroughly documented every second of every minute of that long 9 hour stretch to show time.
Oh joy.
The good news was, Rich Vos would be there. The bad news was, we were expected to actually take part in something described as a "one-on-one workshop where you will perform your material for Rich Vos and he will provide constructive feedback". Not surprisingly, no one was looking forward to being locked in a room alone with Rich Vos and performing stand up for him while he scrutinized you from a dark corner… what the fuck is that all about?
Fortunately, Rich turned out to be a very nice guy and he knew as well as the rest of us that this workshop idea was creepy as fuck -so we all just hung out in the green room for a couple of hours and talked shop. This was definitely the best part about this whole experience. Rich told us a story about how the first time he was in "Last Comic Standing", he was obsessed with winning so much that it really adversely affected his performance and he did not win that season. But when he came back for a second time, he was over it and honestly thought he had no hope of winning -so he just tried to relax and enjoy the ride instead… and he won.
This was one of those moments of supreme irony in life, only I did not realize it at the time.
At this point, I noticed the comic who had gone up before me on that fateful audition night (and had also made it to the finalist round) was pretty much in full on panic mode. He was pacing back and forth in a corner and staring at a slip of paper with a handful of jokes scrawled on it. Apparently, he did not have the required five minutes worth of material committed to memory. In fact, he seemed a little surprised that none of the other comics appeared to have any notes at all.
"I probably shouldn't go up there with a bunch of notes…" he wondered aloud.
"Relax man, just go out there with your favorite bit. It's only five minutes."
This is when the single funniest moment from this entire comedy competition occurred. This guy admitted to me that he had never done stand up comedy before that open mic audition that landed him in the finals. He was writing a paper on standup comedy for some sort of liberal arts class and as part of his final thesis, he decided to go to an open mic and actually tell a few jokes… and… well… here we were. He told me he was pretty sure he didn't even have five minutes worth of material.
I swear I am not making this up.
After Rich left the green room and show time approached, the conversation quickly turned towards the prize. Believe it or not, after all this time -no one had actually thought to ask what the prize for winning this thing was. Some quick iPhone Googling revealed that last year's winner actually won some cash, but details seemed vague about this year's competition. When the lady coordinating the event made an appearance in the green room just before show time and was asked about this, she delivered a rather lengthy rambling speech about, "… being on the radio and maybe some other stuff, but we are still hammering out the details…"
This was not a good sign.
In fact, this is roughly the point in time where it occurred to me that we were basically the radio station's painted whores for the evening. Somewhere months ago, a group of marketing guys got together in a boardroom to brainstorm cheap ways to drum up a little publicity for the radio station.
"I know, let's have a fundraiser for the homeless!" one said.
"No… we might actually have to give homeless people money. Let's just tell a bunch of amateur comics they are in some sort of competition instead… won't cost us a dime!"
Flash forward six months later and I'm standing back stage at Snoqualmie Casino telling myself this slow motion trainwreck is finally coming to a close. Nothing else could possibly go wrong. All I have to do now is go out there and suffer for five more minutes and then it will all be over.
"What's the worst thing that could happen, right?" Of course, by now I should have known better.
I'm not sure what kind of drugs the host was on, but I am very much interested in experimenting with some -as long as I can do so in a safe and private environment. Hosting a comedy competition is probably not the best time to experiment with powerful, mind bending chemicals though as was proven by the bizarre, rambling non-sensical intro the host spit out before someone pushed me onto the stage in the hopes that it would finally shut her up.
Since we had been told to "work clean" and stay away from "blue material" and dick jokes, I instead insinuated that I was a Girl Scout murderer and then made fun of Jesus for awhile. I was exhausted and ready to go home… there was still much crying in the shower to be done that evening and I had a good one hour drive ahead of me.
This is a picture of some random moron ruining a perfectly good radio station ad.
After all the votes had been tallied, they called us back on to the stage for one last public shaming… and believe me, I was just as surprised as everyone else when it was announced that I was somehow the "winner" of this madness. But sure enough, I was handed a small wooden plaque that said, "WINNER" on it as the other comics gathered around to congratulate me.
When we were all leaving that evening, Rich bumped into us in the hall and asked who had won.
"I did." I said, as I proudly held up the miniature wooden plaque with the word, "WINNER" inscribed across the front.
That's when he gave me a look that said, "I thought you were the janitor…" as he turned to exit the building.
I have to admit, winning a prestigious comedy competition like that really changed me. I did in fact, "win the opportunity to maybe work with Rich Vos in the future"… just as the host had promised. I also won the opportunity to maybe impregnate Britney Spears with a three headed love child in the future, but so far -no word on either of these things actually happening. I also won a jar of candy which had at least six Jolly Ranchers in it. Sadly some of them were apple, but that just made me savor the watermelon ones even more… although, I have to admit it did sting a bit when I learned ALL of the finalists had received a jar of candy.
This is a picture of me questioning reality.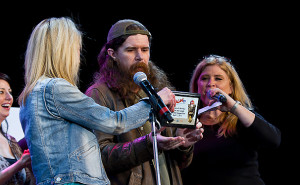 They did make good on their promise of me "being on the radio" though. Apparently at some moment in time, they played that awful clip from the auditions of me telling a dick joke to an empty room on the radio. So thank god for that, because that is EXACTLY how I want to be represented.
Anyways, that's the story of how I accidentally won a comedy competition one day.
I realize this blog entry may sound really douchey but that's not what I'm trying to do here. I'm sure everyone involved had the best intentions at heart and hanging out with Vos for an afternoon made it all worthwhile. I guess my point (if I have one) is that comedy competitions in general are a terrible idea and anybody in that group could have won that thing. We could have held that competition ten days in a row and I'm sure a different comic would have won it every time.
Don't believe me?
Then enjoy my shame and witness for yourself indisputable video evidence that comedy competitions are bullshit.