Without a doubt, standing in front of large groups of people and trying to make them laugh is one of the most difficult things I have ever done in my life. Every time I go up on stage, I learn something new and when it works -it is one of the most rewarding experiences imaginable… but when it doesn't work, it can be one of the most degrading, shameful experiences of your life.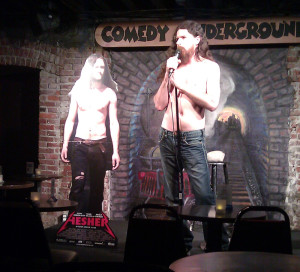 That's why most comics have balls of steel… even the women. Sooner or later you realize, "bombing" is inevitable. It HAS to happen in order for you to get any better. You can learn more from bombing than you ever will from your greatest set and on another note, I still distinctly remember bombing in spectacular fashion at a show nearly two years ago… it haunts me… but the people at that show? Let's face it, they don't even realize I exist -so me getting all worked up over it, is actually pretty silly.
This is the crazy paradoxical zen state that every comic strives to achieve. Reaching that point where you really just don't care what happens on stage. But of course, you still want to get laughs -otherwise, you wouldn't be doing it. But the more desperate you are for laughs -the harder it is to get them. The desperation shows and an audience wants to be confronted with a confident "professional" who just does not give a fuck.
That's why bombing and shitty mics can be so important. You need to learn from your mistakes and build those calluses… you need to get better… it's the only way. If all you ever do is bomb -STOP… make room for everyone else. But if you are genuinely working it out and have a genuine sense of humor -bombing can be a blessing.
Embrace the shame.
The first year I started doing standup, I regularly performed at a bar show. This show was rarely promoted and usually resulted in a handful of comics wandering into a bar, grabbing a microphone and then telling jokes to six angry people who just wanted a quiet night out with their closest friends. Nobody told them a comedy show was about to happen and they were not happy about it.
It was awful… I saw things… terrible things… but it also made me a better comic.
Before long, I started to wonder why we even bothered to tell anyone in advance we were performing… including the venue… maybe we should just stroll on in to a laundromat and start a comedy show… or maybe the monorail… at least then, we would be virtually guaranteed an audience and a comic is always desperate for a new audience. After all, they can't walk out when they still have underwear to fold and if you want to build up those comedy balls of steel -grab a mic, post up in the frozen foods aisle of your local grocery store and go for it!
So that's what we did.
One day, my buddy Anthony Robinson and I decided to literally walk into a laundromat unannounced and put on a brief comedy show.
Honestly, it couldn't have gone any better. Anthony is a great comic, so I wasn't surprised he could win over a crowd… but in a laundromat… unannounced…?
Watch for yourself…
Bolstered by the success of our debut laundromat show, we decided to extend our comedy tour to where else but, the frozen foods section of our local grocery store.
Initially, I thought folding your underwear might be a private moment… a moment where people might be upset if you come barging in with a video camera and start telling jokes. But I guess people in laundromat's are starved for entertainment. They have to be there and who knows how long they have been staring at their socks spinning round and round in the dryer?
Grocery stores -not so much. As soon as we started up, people scattered like cockroaches. Apparently, nobody wants to be seen buying Ben and Jerry's and it's certainly no time for jokes. We lasted all of three minutes before being escorted out of the building by the police… that's right… the police.
Comedy is serious business.
By now I was addicted though. Who needs venues? Who needs crowds? You wanna do some comedy? Let's do it right here! Right now!
Which is exactly what I said to Albert Kirchner before marching in to a random McDonald's and starting up an open mic with him.
I have seen a lot of heckles and threatening to call 911 is definitely in my top three list. How does that phone call even start?
"It's a comedy emergency! He won't stop telling jokes in my McDonald's! Dear god, someone save us!"
I'm starting to sense a pattern here… wherever there is a person in a position of "authority" -they feel as if they have to "flex" it at every opportunity. Otherwise, the illusion of your authority might fade. How do people know you're in charge if you never actually prove it every once in awhile? … and what better opportunity to flex your authority muscle then when something completely unexpected happens?
This is not a part of my routine! Therefore, it must be stopped at all costs!
That's when I started to think maybe we should avoid cops and people with a desperate need to prove their authority all together… clearly, this style of comedy is dangerous stuff… we needed to find some place where the audience was still trapped, but the odds of there being someone hanging around who was convinced that everything should go exactly according to plan were slim… like the Sound Transit Light Rail, for example.
… or even Seattle's famous Monorail.
But perhaps my favorite Guerilla Comedy moments, were the shows put on in the middle of the street. There is no pressure on the audience. They are free to come and go as they please. The comic has to actually earn the crowd and it just might be standup in it's purest and most basic form. I like to think this is the way they did it back in caveman days.
Say what you want, but that's a pretty impressive performance by my buddy Mitch Burrow. In under three minutes, he draws a crowd into the middle of the street, completely unannounced and doing standup without a net… and at the end of his set, everyone applauds. They enjoyed it… even appreciated it and for a brief moment in time, three bitter and cynical comics actually became a little less jaded about the art of standup.
If you aren't impressed by that, try it yourself some time.
… and last but certainly not least, one of my favorite Guerilla Comedy performances was truly spontaneous. We just happened to be walking down the street with our gear when we noticed a religious maniac screaming and yelling at everyone who passed by.
What better place for a comedy show?
Watch as the comedian becomes the heckler and the religious nut goes from foe, to adversary to friend all in the span of seven minutes.
So get out there, embrace your shame and don't be afraid to say something that's not funny every once in awhile… and if you see a couple of scruffy looking guys wandering around town with a mic stand and a video camera -enjoy the show.